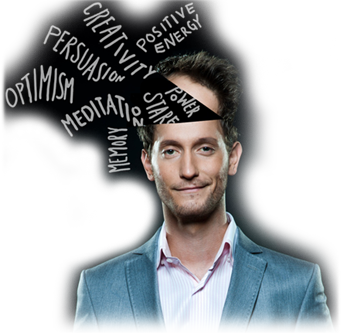 Lior Suchard is a world-renowned entertainer and mentalist who first created a storm when he was selected as the winner of highly rated international TV show "The Successor" to officially take over the celebrated mystifier, Uri Geller. He appears often on international talk shows, including The Tonight Show with Jay Leno, and is a charismatic crowd-pleaser on the Las Vegas circuit.
In Mind Reader, Lior takes us on an incredible journey through the wonders of the human mind, sharing his remarkable personal story while offering invaluable advice. Lior's secrets and lessons, illustrated throughout with interactive elements and brain teasers, will enable readers to achieve phenomenal success by unlocking their untapped mental powers and freely embracing their inner mentalist.
Do you believe it's possible for someone to read your mind?
Lior Suchard can. He can read your innermost thoughts, and knows what you are going to say before you say it –before you even know you're going to say it!
As a six-year-old boy in Haifa, Israel, Lior first realized he had an extraordinary mental power. Now he is known throughout the world as a dazzling entertainer and peerless mentalist, astounding audiences everywhere with his extraordinary talent for mind reading, thought influencing and telekinesis.